"No Thanks. Please Close This Box!"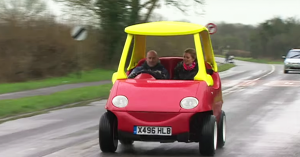 We all know that classic childrens toy car that we drive around with a little bit of leg power. Bold in its design and lacking in modern safety features, we still loved it because it made us feel like an adult! Funny how that works because when we become adults, we long to be children again. So John Bitmead decided to build an adult version of the Little Tikes toy car. This bright red and yellow car actually has an airbag, lights, mirrors, and enough power to reach 70 MPH.

So cool! Now thats one very creative way to relive your childhood. The only downside is that your kids will probably be bugging you to take it out for a spin. Would you drive this thing?